Bharat (Pvt.) I.T.I., Vill Roorki, Kurukshetra, an Industrial Training Institute was  Established in 2016 with the aim to empower the youth with the technical knowledge so that they can serve the industries with their skill and be an important part of growing India. The Education Qualification for the admission in an ITI course varies from 10th depending upon the course you choose. Apart from the theoretical part of the course, the main emphasis of the institute is always on the practical part of the course which is most important constitute of the any technical course. So the institute always encourages the trainees with the "Apprentices and Industrial visits". Along with the course studies, the institute also organizes various educational and inspirational activities like seminars from MSME, NSDC(Security Training & ILFS), Hardicon.
Apart from these, social activities like Blood Donation Camp, Sports Meets and Cultural Programs are also organized. Also activities for character build-up and increasing moral values among the students. The institute encourages the unity among the students, both seniors and juniors, and discourages the evils like Ragging. No case of ragging is ever reported in the Institute.
The Department has five pharmaceutics labs including Central Instrumentation Room and Machine Room. All labs are well equipped with sophisticated instruments such as UV spectrophotometer, Double rotary tablet compression machine, Hydraulic benches, Tablet Dissolution & Disintegration apparatus etc.
The Department has three pharmacology labs are well equipped with Instruments such as Rota rod, Pole Climbing Apparatus, Eddy's Hot plate, Spirometer, Electroconvulsiometer, Analgesiometer, Actophotometer and Software's for performing simulated pharmacological experiments.
PHARMACOGNOSY AND BIOTECHNOLOGY LABS
The Department has three Pharmacognosy and Biotechnology labs are well equipped with Projection microscopes, Muffle Furnace, BOD incubators, Autoclaves, Microtome Blade and Laminar air flow with proper aseptic room etc.
PHARMACEUTICAL CHEMISTRY & ANALYTICAL LABS
The Department has four Pharmaceutical Chemistry and Analytical labs are well equipped with UV Spectrophotometer, Karl Fischer Titrator, Flame Photometer and Gel Electrophoresis etc.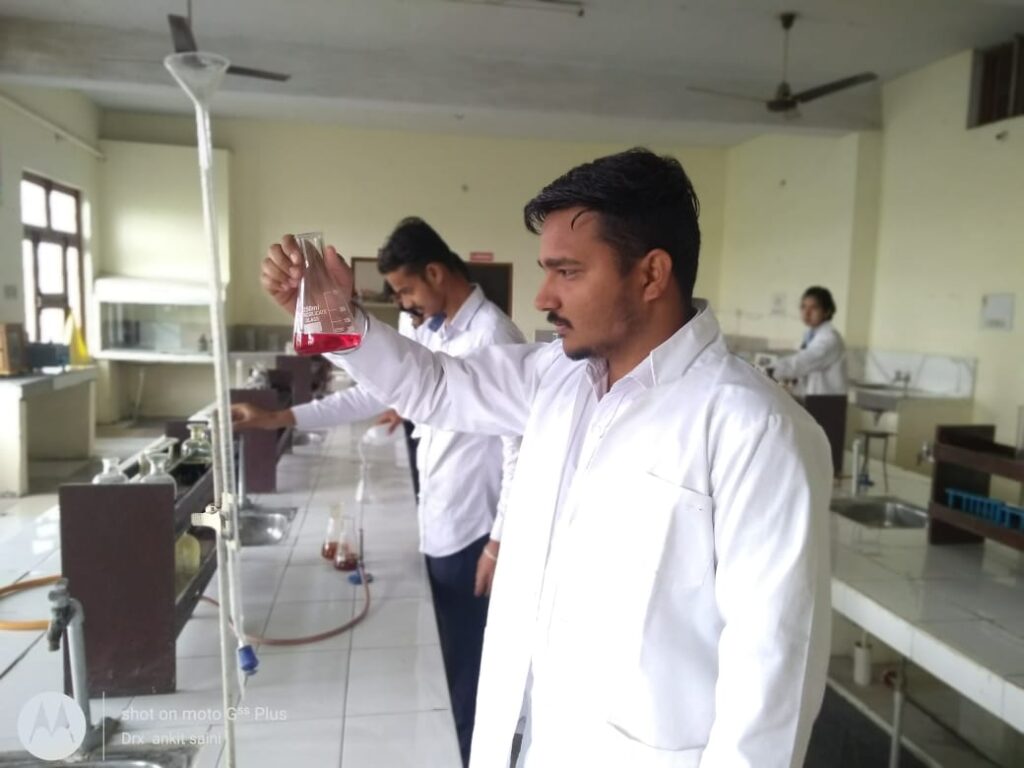 The 21st century is the century of skills and knowledge; professionals who possess specialized skills or have the right knowledge and know how to apply them have been successful. Therefore, thinking that ITI courses are inferior to the others or do not present good career opportunities will be wrong. In fact, with rising unemployment rates, in many cases, ITI students who have the right skill set and training will have a better chance of employment as compared to others who hold higher academic qualifications.
As far as career opportunities are concerned, ITI students have two main options that are available to them, i.e., either go for further studies or explore job opportunities. Both these options have their own advantages as discussed below:
1. Further Studies
Diploma Courses: For students who have undergone ITI training in technical trades or engineering domains, there are several engineering diploma courses available. Unlike the ITI courses, the diploma engineering courses go in the details of the respective subject covering both theoretical as well as practical aspects of the domain.
Specialized Short Term Courses: For ITI students from certain specific trades, the Advanced Training Institutes (ATI) offer specialized short-term courses. These courses help students hone their skills further, specific to the job profiles or industry requirements in the respective domains.
All India Trade Test: Another option for ITI students after the completion of ITI course is to go for AITT or All India Trade Test. The All India Trade Test is conducted by the NCVT (National Council for Vocational Training ). The exam is a skill test that certifies the ITI students. After passing AITT, students are awarded National Trade Certificate (NTC) in concerning trade by NCVT. In many engineering trades, an NTC is equivalent to diploma degree.

2. Job Opportunities
Just like other professional and vocational courses institute, even ITIs have dedicated placement cells which look after placement of students. These placement cells have tie-ups with various governmental organizations, private companies and even foreign companies, who hire the students for jobs in several trades.
A. Job in Public Sector Units
The biggest employer of ITI students is the public sector or the government agencies. Students who have completed their ITI can seek employment with various Public Sector Units / PSUs such as Railways, Telecom / BSNL, IOCL, ONCG, State-wise PWDs and others. In addition to this, they can also explore career opportunities with the Indian Armed Forces i.e. Indian Army. Indian Navy, Air force, BSF, CRPF and other paramilitary forces.
B. Jobs in Private Sector
Private sector, especially the ones dealing in manufacturing and mechanics seek out ITI students for trade specific jobs. The key sectors in which ITI students can find lucrative career opportunities include construction, agriculture, textiles, energy. As far as specific job profiles are concerned, electronics, welding refrigeration and air-conditioner mechanic are the most sought-after skills in an ITI student in the private sector.
C. Self-Employment
This is probably the most important advantage of opting for ITI course, as it allows one to start own business and be self-employed. Thanks to the preference towards white-collar jobs, professionals who do blue collar services. Therefore, today we find an acute shortage of trained and qualified plumbers, carpenters, construction workers, agricultural workers etc. This is a great opportunity for students with an ITI certificate to start their business and be self-employed.
D. Jobs in Foreign Countries
Another career opportunity that ITI students can explore after the completion of their course is off-shore jobs. Similar to India, many developed and developing countries are facing the shortage of blue-collar professionals; people who can fix things or provide associated services. Especially for specific trades like Fritters, there are many job opportunities with international oil and gas factories and shipyards etc.
Electrician (2 Years) :10th
Draughtsman Mechanical (2 Years) :10th
Health Sanitary Inspector (1 Years) :10th